Bryan Reynolds Extension 'Amazing Day For The Pittsburgh Pirates'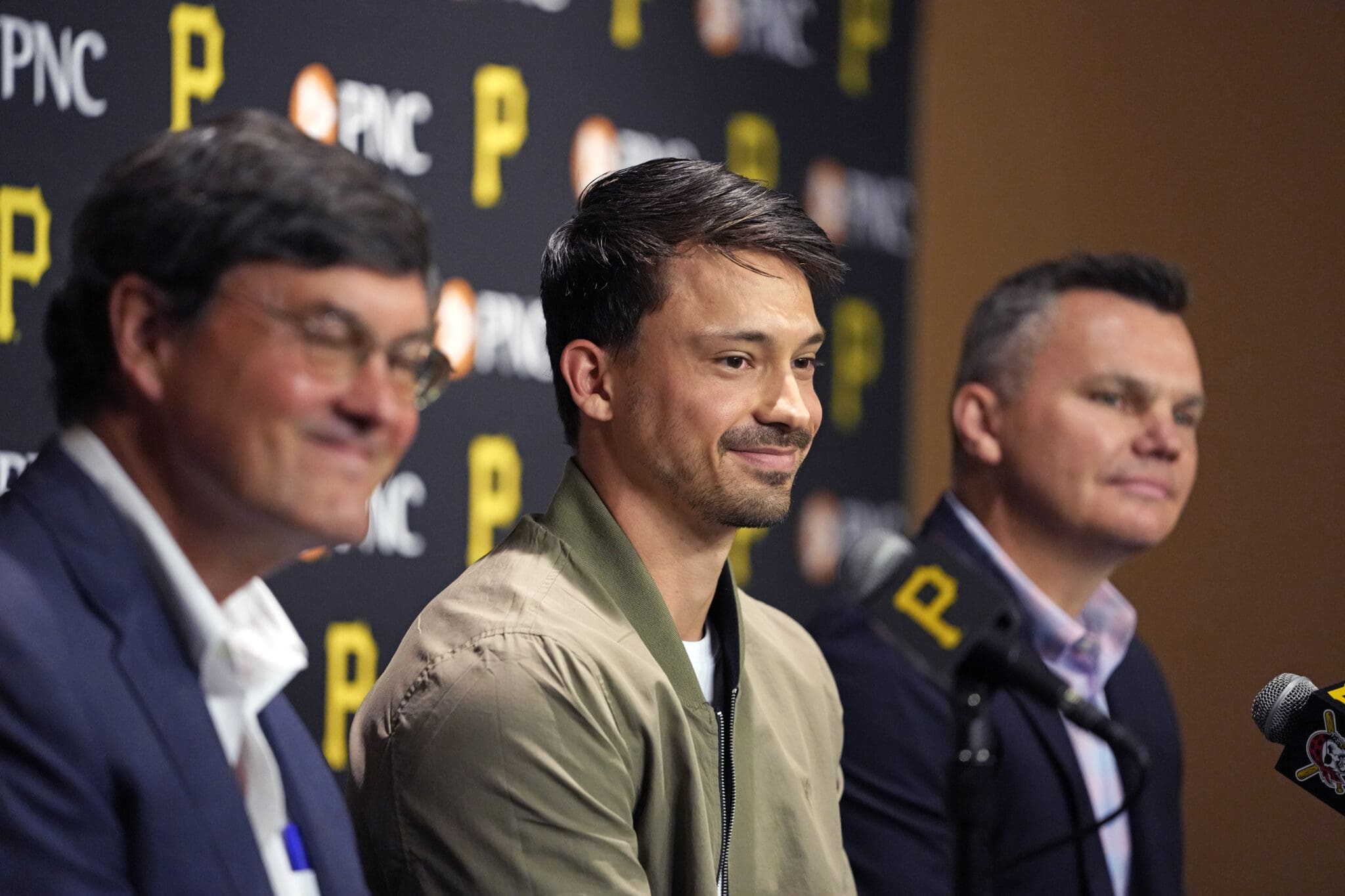 PITTSBURGH — The finish line has been crossed. Pen has been put to paper. Whatever cliché you want to use, the news is official. Bryan Reynolds has signed his eight-year contract extension with the Pittsburgh Pirates.
The contract was announced earlier in the day on Wednesday with a press conference in the media room at PNC Park.
Reynolds was joined on stage alongside Pirates' chairman Bob Nutting and general manager Ben Cherington for what was "an amazing day for the Pittsburgh Pirates," as Nutting put it.
The deal represents the largest contract ever given out in team history and also the first time that the Pirates have handed out a nine-figure contract. In Nutting's eyes, Reynolds is more than deserving.
"We respect you. We appreciate you. And we want to have you here as a Pittsburgh Pirate. I just could not be more personally thrilled that we are able to sit here together right now today. It's wonderful that we have a player with real character, a character that we can invest in and we can trust," the club's owner said to Reynolds.
At times, a potential extension between the two parties looked just about impossible. After talks stalled during the offseason, Reynolds requested to be traded from the organization.
The two sides, however, were able to get past their differences and get a deal done. Cherington credits the 28-year-old outfielder as to why.
"And then of course, Bryan himself, who I really believe is the reason we're sitting here today. Bryan is the reason that we all kept coming back to the table to try to figure out a way to get this done. Because we all cared, and ultimately, Bryan is the reason that happened. Bryan is the reason we were all so motivated to figure this out," Cherington said.
After Cherington and Nutting gave their opening remarks, it was time for Reynolds to take his turn. Reynolds is typically a more reserved personality, but even his excitement was felt more that usual.
Perhaps he was a bit more excited than normal because he had his family in attendance. Alongside his parents, his wife Blair and sons Reese and Brooks occupied the front row of seats at the press conference.
"It's really special. Me and my family are really close. With my parents and my sister, too – she can't be here because she's going to be having a baby boy in about three weeks. But to be able to have Blair and Reese and Brooks here, not causing too much mayhem, it's really special," he said.
In the five years that he has called PNC Park home, Reynolds has grown an appreciation for the city of Pittsburgh. Fortunately for him, he will continue to be a part of that city.
"Obviously, the fans, the whole city of Pittsburgh. I love it here. I've been saying it for years. My family has made this our home away from home… it's nice that we know where we're going to be for a long time, so just a 'thank you' to everybody."
The Pirates have gotten off to a hot start this season with a 16-8 record through the early part of the season. For the first time since Reynolds has been here, it feels like the future may not be too distant.
Since Reynolds has been with the organization, he has seen a complete regime change with a new manager, new GM and new team president. Since the change took place prior to the 2020 season, the Pirates have finished 19-41, 60-102 and 61-101.
Now, it's starting to feel different around the Pirates. Between this extension and the team's performance, things are starting to finally look more promising, and Reynolds has taken notice.
"I'm really excited about what we're building, what the team can be and what we're already doing and just what the future holds."